Meet the eleven wellness team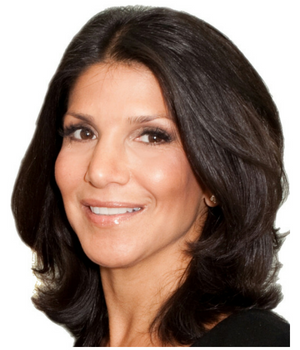 Dr. Vinita Schroeder completed her education, medical school, residency, and fellowship in the University of Texas system. She is a specialist in allergies dermatological diseases and anti-aging techniques.
In 2004, Dr. Schroeder partnered with Dr. Maurice Dray, a world-renowned dermatologist from Paris, France. She mastered his non-invasive, anti-aging, and cutting-edge skin rejuvenation treatments.
Dr. Schroeder leads IV therapy and aesthetics, sharing her expertise in helping bring out each client's nature, innate beauty. She teaches a natural approach to treating facial wrinkles, lines, and volume loss to achieve symmetry.
Dr. Schroeder is a Clinical Assistant Professor at UT Southwestern and is active in a number of local and national organizations including The American Academy of Allergy, Asthma, and Immunology, The American College of Allergy and Immunology, and the American Academy of Aesthetic Medicine.
"Injecting is an art form. Every patient is unique, so each injectable is custom. I pride myself on providing patients with a refreshed and natural look that's made possible with the latest innovations and techniques. I love making my patients feel better – both inside and out."
Dr. Kiran Robertson is Board Certified in Internal Medicine and has been in practice for over 20 years. She is also a trainer for the American Institute of Aesthetic Medicine (AIAM). Dr. Robertson began doing injectables over 13 years ago when she broadened the services available to her patients.
She takes the time to listen and evaluate each client to find the right solution. Her goal is to make each of them look like a refreshed and better version of themselves.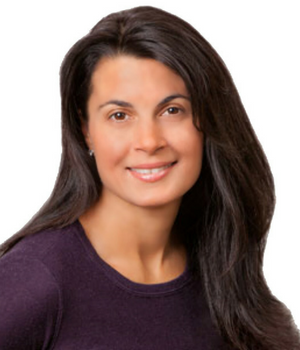 For Dr. Robertson, vitality is being active and healthy – and being able to live life to its fullest possibilities. Her philosophy about beauty: it starts inside. Her goal is to help bring out our natural beauty.
Dr. Kiran is married and has two daughters. She loves spending time with her family and is most grateful for them. She also enjoys several sports, running, cooking, and reading. In addition to her work at Eleven Wellness, she volunteers at a charitable medicine clinic.
Roxie Benatar
Director of Clinical Operations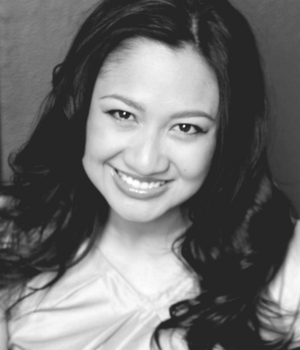 "Our clients are so much more than customers here at Eleven. We love to hear and celebrate what's happening in their personal and professional lives. Helping them feel beautiful and reinvigorated when they leave Eleven Wellness is just the icing on the cake!"
Roxie was born in El Paso, Texas and now lives in McKinney.  At the beginning of her career, her focus was event planning and fashion, but she never anticipated a career in the beauty industry – however, it's her passion now. A former Director of Spas, Roxie's role at Eleven Wellness is to ensure your experience with us exceeds your expectations and delights.
Roxie couldn't be more grateful for what has come her way both personally and professionally. In addition to helping our clients feel and look amazing, she values the lifelong connections.
For Roxie, vitality is an energy that transcends and it's amazing what that energy can do when it spreads from one person to another. Beauty is all-encompassing. It's a confidence, a smile, a moment.  She shares: this life we have is truly beautiful!
In her free time, Roxie enjoys a good workout, tennis matches with her husband and spending time with her two teenagers. They love to travel as often as possible with friends and family. Roxie's also a self-admitted beauty junkie and loves to get lost at places like Sephora and those alike.
Alison Tohlen
Lead Medical Aesthetician
"I genuinely love helping people feel and achieve their optimal results through skin care. I, myself, struggled with acne in high school and experienced first-hand the devastation and frustration skin conditions can cause. Being able to have the tools and the knowledge to help my clients have less of that frustration brings a lot of joy and makes me continue to love what I do."
Alison is a native Texan and has been a licensed aesthetician for over 14 years, garnering expertise along the way in medical aesthetics, customized facials treatments, and cosmetics. She earned Dermaplaning and ProCell Microchanneling Certification, Glytone Peel Training and has completed American Laser Institute Training.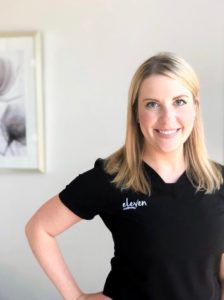 Alison develops custom treatment plans for her clients that include in-spa services as well as an at-home routine that's detailed but realistic for each person's lifestyle and needs to achieve their best result.
For Alison, vitality allows for optimism and feeds mind, body, and soul. Beauty is the ability to love yourself imperfections and all.
When she's not making clients look and feel great, Alison enjoys traveling, exercise, and is a huge animal lover. She is also a huge foodie and happy to share her favorite places to dine in Dallas and beyond. Alison's most grateful for her health, family, friends and amazing clients, all of which enrich her life.
Amanda Stedman
Medical Aesthetician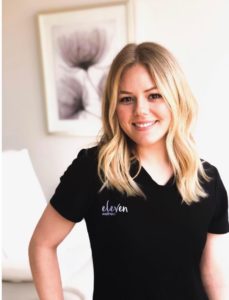 "My journey started with my own issues with my skin. I developed acne in my 20s and realized how complicated and interesting all aspects of skincare were. After realizing facials weren't just about relaxation, I became obsessed with learning about the skin and how to treat it."
Amanda has over 5 years of experience as a licensed medical aesthetician, working in medical offices and luxury spas. She is certified in Dermaplaning and ProCell Microchanneling and has received training in several skincare lines including Revision, Biopelle, Avene and Glytone.
Amanda prides herself on building long-term relationships with clients based on kindness, trust, and knowledge. She provides a thorough skincare plan and the continuous support her clients need to achieve the results they are desiring.
For Amanda, vitality is all about being healthy and feeling good from the inside out. Beauty means radiating from within, being confident in who you are and what you can achieve.
Amanda loves spending her free time with family and friends, being outdoors and practicing yoga. She is enjoying being a newlywed and a mommy to her dog and two kitties.
Julia Critelli
Medical Aesthetician
"I love that I can help others feel beautiful. I had skin issues myself as a teenager, so to know that I can assist others with their skin is very rewarding. I like to make sure that anyone I have as a client is comfortable during any treatment I am providing. It's a very personal experience that I provide, so I take it as a huge compliment when a client returns to me repeatedly."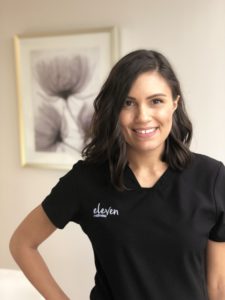 Julia was born in Norwalk, Connecticut and now calls the metroplex her home. She is a graduate of Southern Connecticut State University with a major in English. However, at a young age, Julia knew she always wanted to be in the aesthetics field thanks to a family member who had introduced her to the possibilities of being an aesthetician. Now with almost 10 years of experience as a licensed aesthetician, she is happy to join the Eleven Wellness team.
Julia enjoys building a long-standing relationship with her clients so that she can assist them in achieving optimal results. When she's initially meeting a new client, she takes into account the big picture of skin care variables (diet, travel, health conditions and products) so that she can create a routine and treatment plan that's unique to each individual.
For Julia, vitality is feeling lively, healthy and happy. Beauty is owning who you are, flaws and all.
In her free time, Julia spends most of her days with her two young boys and husband, trying new restaurants and exercising. Julia is incredibly grateful for her network of friends and family in Dallas and to be able to work in an industry she is so passionate about.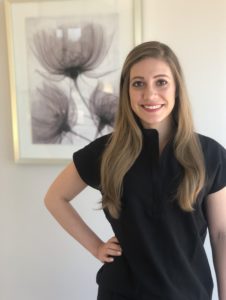 "I love being involved in the wellness and beauty industry, there are always new things to learn.  I have spent a lot of time caring for the ill and have now shifted my interest to prevention and wellness."
Mariah was born in Missoula, Montana and settled in Dallas in 2018 after her husband was accepted into a physician residency program at UTSW.  After five years of practice in critical care nursing, her trajectory changed to beauty and wellness. In addition to being Laser certified, Mariah is also currently pursuing her Master's degree to become a Family Nurse Practitioner at Texas Women's University.
Mariah is consistent in treating her clients with the utmost respect and compassion, as well as going above and beyond to ensure that each treatment is successful. She enjoys building a relationship with her clients and hearing about their lives and adventures in addition to assisting them in their wellness journey.
Beauty to Mariah is a reflection of how a person feels on the inside, "If a person is in a state of well being, physically, mentally, and emotionally, it shows."
When she's not working or studying, Mariah enjoys the outdoors, cooking, and spending time with her friends and family.
Tiffany Ingram
Medical Aesthetician & Laser Technician
"I love being able to help people attain beautiful, healthy skin. I'm very passionate about skincare and love being able to educate my client's on the importance of caring for their skin to maintain it's health and beauty."
Tiffany was born in Dallas and was raised in Sherman, Texas. She attended the University of North Texas after graduating high school a year early. Shortly after starting college she quickly realized that the aesthetic industry was her passion, and left UNT to attend Ogle School of Hair, Skin, and Nails with an emphasis in Skin.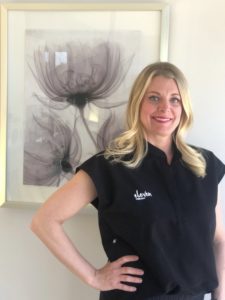 Tiffany is a veteran aesthetician with 20 years of experience as well as being certified in laser services. She has a passion for continuing education and constantly perfecting her techniques in order to provide the best service for every individual.
She enjoys being able to customize or "layer" a treatment based upon the need's and concerns while simultaneously educating them on skincare, in turn creating a friendship with her clientele that is the ultimate reward in her career.
For Tiffany vitality is to have mental vigor, capacity for survival or for the continuation of a meaningful and purposeful existence.
In her spare time, Tiffany enjoys the outdoors, trying new restaurants,  volunteering at her children's school, working in her garden, traveling and spending time with family and friends. She is grateful for her health, her family, and the blessing of being able to do exactly what she was meant to do; Aesthetics. Her hands truly are her "gift"!