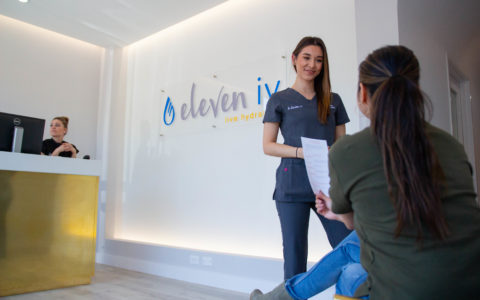 WELCOME TO ELEVEN IV – DALLAS' FAVORITE IV THERAPY BAR
Eleven IV now offers treatments at 3 locations in Dallas: Preston Center, SMU and Highland Park! Our Preston Center location allows clients to get their favorite facial or other medspa treatment at the same time as they hydrate from the inside out with IV therapy.
SMU, our flagship store, is located at 6417 Hillcrest Avenue and our Highland Park store is located at 4141 Lomo Alto, just across from Whole Foods. With 3 convenient locations to hydrate, it's never been easier to Live Hydrated.
For more information about our IV treatments, membership program and more, head to www.elevenIV.com.
At Eleven IV, we believe that everyone should be able to benefit from the effects of IV nutrition. So that's why we created our membership program: Eleven iVIP. Save big on IV treatments, add-ons, injections and oxygen therapy! Our iVIP membership includes one IV per week and 1 injection per week. Plus, receive amazing discounts on upgrades and additional treatments.
LIMITED TIME OFFER
Our iVIP membership is a steal of a deal that you can't afford to miss!
Each week, choose from:
Recovery or Live Hydrated IV treatment
Choice of ANY injection
Discounts on upgrades and additional treatments
Valued at over $500!
Membership is valid at any of our 3 locations: SMU, Highland Park (Coming Soon) or
Preston Center (Coming Soon)! Sign up between now and April 1 to lock in your savings!
*3 month minimum commitment. Excludes all NAD+ services.