PROCELL – LIVRA MICROCHANNELING MICRODERMABRASION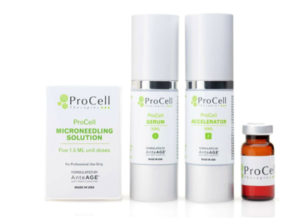 The Livra microchannel and microdermabrasion tools and stem-cell serums with growth-factor technology are an exclusive serum delivery system used to be a "one-two punch" at pre-treating and direct therapy to:
Rejuvenate and restore skin
Treating fine lines and wrinkles
Treating hyperpigmentation
Treat acne scarring and keloid scarring or stretch marks
Treat hair loss
Treat dermatitis
Treat active acne
Treat rosacea
Ready To Book Your Consultation?
Visit our Dallas location for PROCELL – LIVRA MICROCHANNELING treatment and meet with a licensed physician!
What Is MicroChanneling
The microchannel tips create small channels in the epidermis which have been proven to increase serum absorbtion by up to 300%. The sterile, detachable, disposable tool tips vary in widths and sizes to provide the perfect amount of coverage. When used with stem-cell based MicroChannel Delivery Serum and aftercare serums the skin is stimulated to regenerate stronger and healthier than before.
Microdermabrasion
The Livra Microdermabrasion paddles employ a unique abrasive surface that ensures gentle but effective removal of dead skin via rejuvinating exfoliation. Using the same stamping motion used by the microchanneling tips, the paddles easily glide across the skin's surface while buffing the surface and revealing healthy, vibrant skin.
What sets us apart?
Only ProCell uses multiple-sized tips that make treatment faster and more cost effective while ensuring more even better, more consistent coverage. Only ProCell's Livra tools have attachments for both Microdermabrasion and Microchanneling procedures… And only ProCell includes human stem cell-derived serums specially formulated to increase production of new collagen and elastin. The Livra tool and Procell serums are MADE IN THE USA to ensure high quality and consistency.
Benefits of ProCell System
Little or no downtime
Minimal swelling or redness
Great results
Multiple uses
Growth Factor Technology
ProCell Serums are derived from human stem cells (from healthy adult bone marrow donors) and contain a high concentration of natural human growth factors. These growth factors support cellular renewal and have potent regenerating properties to improve skin firmness, elasticity, and tone. Fine lines and wrinkles diminish over time, and skin looks and feels brighter, more luminous, and healthy.
The growth factors found in skin care products come from a variety of sources, including plants, adipose tissue, platelet-rich plasma (PRP), and even snails! Only human stem cells help detect damaged skin and stimulate the skin's own regenerative abilities. ProCell Serums contain growth factors derived from human bone marrow stem cell cultures, which demonstrate potent anti-inflammatory effects that may reduce healing time, hyper pigmentation, and scar tissue deposition.
Success for Hair Regrowth
ProCell Hair Serum contains select growth factors that are naturally present in healthy, young hair follicles. These growth factors may improve the overall condition of the scalp, may rejuvenate damaged hair follicles, and can stimulate generation of new hair follicles which may help to stimulate new hair growth.
Contact us today for a complimentary consultation to find out if the ProCell System is right for you!


Ready To Book Your Consultation?
Visit our Dallas location for PROCELL – LIVRA MICROCHANNELING treatment and meet with a licensed physician!